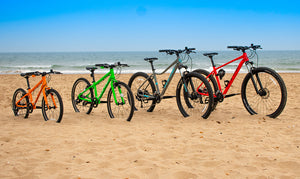 OUR BIKES
MENS BIKES
Our Forme mountain bikes feature front suspension, hydraulic disc brakes and perfectly adjusted gears! You can hire our bikes knowing you'll have a safe and trouble free experience.
LADIES BIKES
Our ladies mountain bikes feature a slightly lowered top tube making getting on and off the bike a little bit easier. These bikes are also great for shorter riders. Giro adjustable helmet included in the hire price.
KIDS BIKES
We have kids mountain bikes available to hire with 20", 24" and 26" wheels meaning we have the perfect size bike for your child. Hire price includes a kids specific Giro helmet.
INCLUDED WITH OUR BIKES
ADJUSTABLE HELMET
Included with your bike hire is a fully adjustable Giro helmet that is lightweight and super breathable. We also have kids specific helmets for our little riders!
SADDLE BAG & BOTTLE CAGE
All bikes are fitted with bottle cages so you can keep hydrated on your ride. We also fit saddle bags on our adults bikes so you can easily store your phone, keys and money.
BIKE LOCK
We don't recommend leaving our bikes unattended while on a ride. However If you do stop for some lunch or a drink then locking the bikes up will certainly help stop opportunist thieves.
CHILD FRIENDLY EXTRAS
TOW BUDDY
Tow buddy enables you to tow our Kinder MX20 (Orange) bike behind an adults bike. Perfect if your child already knows how to ride a bike but just can't quite keep up with the pace.
TRAILER
Our bike trailer enables you to tow two small children upto a total of 60kg. Alternatively the trailer would be perfect if you have lots of equipment that you want to take on your ride but don't want to wear a rucksack.
CHILD SEAT
If you have a small child who can't ride a bike then this is the perfect solution, as you can safely take them out on your ride knowing they are right behind you.